Online Kathak/ Bharatnatyam Classes
Enquire Now For Any Query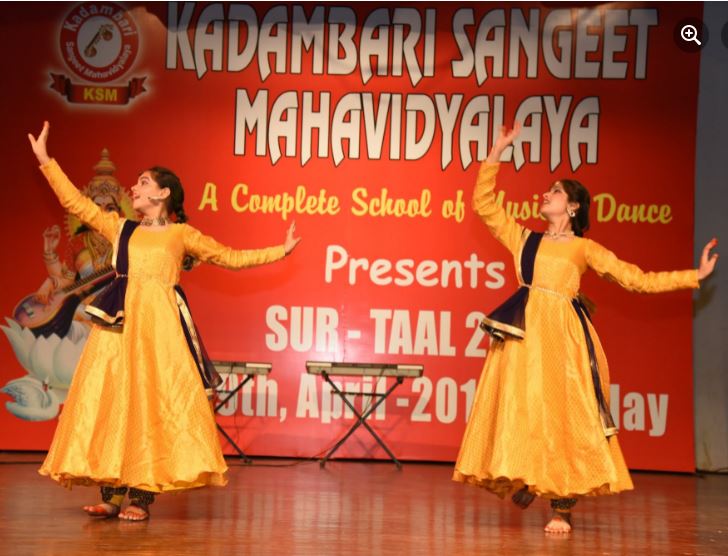 Comprises of Qualified Teachers
Kadambari Sangeet is one of the most top-rated institute who provides Kathak dance classes in Delhi, Noida, Ghaziabad to the Kathak aspirants. Kathak is a very popular classical dance forms in India. The word 'Kathak' means storytelling, it is the dance form where the artist tells the tale through music, music along with movements of arms and facial expressions. This dance form is created to narrate the mythological tales in temples, inside the Northern states of India .
It was all through this time that Kathak imbibed Persian and Arabian cultures and became greater sophisticated and complex. It's far the only dance form which has integrated the values and traditions of each Hindu and Muslim cultures and additionally uses Urdu poetry and verses in the performance.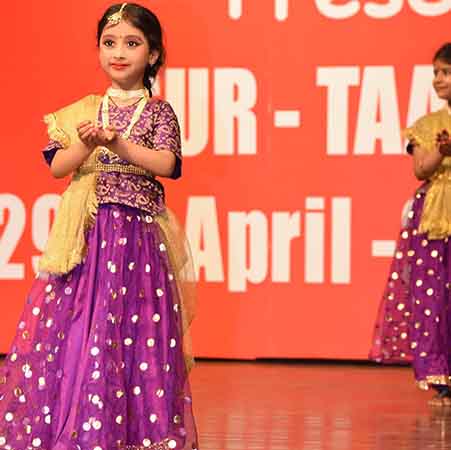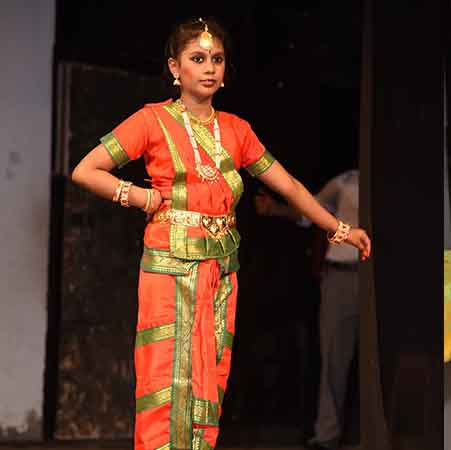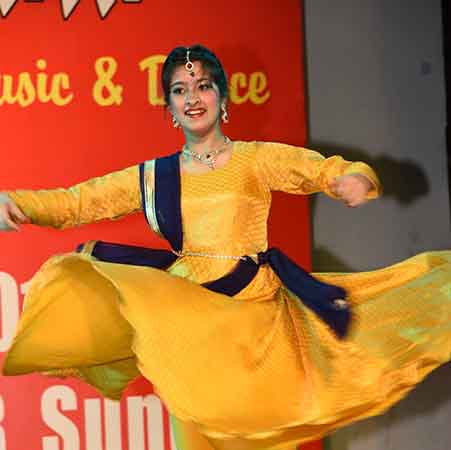 Kathak Bharatnatyam Classes in Delhi NCR
The word Kathak is originated from 'Katha', meaning "the art of storytelling." The community of artists known as 'Kathakas' who used to narrate history in a enjoyable way. Kathak is observed in three distinct forms named after the cities where the Kathak dance developed which are Jaipur, Banaras and Lucknow. The three sections of a Kathak dance are invocation and 'Nritta' and 'Nritya' mentioned in 'Natya Shastra' and accompanied by using all major Indian classical dance. In the beginning part the dancer gives respect to her guru and musicians onstage and invocation to Hindu gods and goddesses through mudras or hand gestures and facial expressions if the group follows Hindu way of life. In case of Muslim groups, the dancer gives a salami or salutation. 'Nritta represents natural dance wherein the dancer to start with plays a thath collection displaying stylish and slow movements of eyebrows, neck and wrists.
Every bol comprises of brief sections consists of extraordinary footwork, turns and gestures encompassing tora, tukra, parhant and paran among others. We are one of the esteemed institute who is offering Kathak dance classes in Rohini, Krishna Nagar, Vaishali, Indrapuram, Savita Vihar as Kathak dance consist of many elaborate foot-works in comparison to different classical dance forms.
The dance additionally has very complicated facial expressions and gestures that could simplest be executed best under strict training and exercise. Due to the fact that this classical dance form is complex a proper education could be very crucial for any Kathak aspirants.
Well in standardizing the process
We always emphasize on providing education that matters, as well as on managing the centers professionally from starting and ending classes on time to providing a comfortable environment to students. KSM has done very well in standardizing the process, using technology for managing the institutes.
Bharatanatyam & all its Forms
Bharatnatyam is a classical Dance form originated in the South Indian state of Tamil Nadu. Traditionally Bharatnatyam is performed as a solo dance by women; it signifies Hindu spiritual subject matters and religious ideas. The word 'Bharatanatyam' is derived from three primary ideas of Bhava, Raga, and Thalia.
It is said that Lord Brahma came to Bharata, the sage who then presented this sacred dance in an Indo-Aryan text known as the Natya Shastra, which gives the formation of Bharatnatyam dance form. The word 'Bharatnatyam' is comprised of the terms, 'Bhava' which meant expression, 'Raga' which means melody, 'Tala' is rhythm and 'Natya' stands for dance. This beautiful dance shape is an act of expression, melody, and rhythm. The dance is accompanied by the classical Carnatic tune. It is originated in the temples of South India as a tribute to gods in temples in South India.
The dance is famous for its beautiful actions and movements This dance form is not only popular in India moreover it is also very popular abroad. We are one of the best institutes who provides Bharatnatyam dance classes in Delhi, Noida, Ghaziabad thus providing an opportunity to learn this excellent classical dance form. Bharatnatyam is a team performance act which mainly comprises a female solo dancer along with musicians and one or more singers. As all other classical dances in India
Bharatanatyam in all its form consist of symbolism or symbolic gestures with a hand which is known as 'adavus'. Different type of hand mudras is Samyuta, Jaati, Navagraha, and Bandhu. The verbal message is communicated by 'Abhinaya' which include facial gestures. The dance form connects the artist with the audience through 'abhinaya' where the actors communicate with the audience through song and music.
Kadambari Singing Classes never gets old, and the teachers are all wonderful people. I've had a lot of fun over the past seven years there. I hope that they continue spreading kathak dance  throughout the world.
Kadambari kathak bharatnatyam Classes for more than five years and it has been the best investment in after school training that we have made. Thank you Kadambari kathak bharatnatyam Classes for time well spent.
My kids have attended Kadambari kathak bharatnatyam Classes since last six months. Over the years their musical abilities have grown tremendously, thanks to a talented staff and seasoned program.
Do you want to join Us? Contact Now