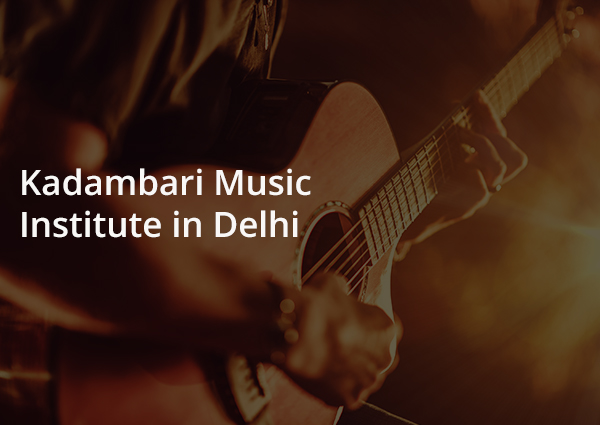 Music Institute In Delhi
The Kadambari is one of the India's greatest and most renowned music institutions. We are fully committed to nurture and support the budding musicians to actually make them professionals of the music industry. And it's been over a decade since when we started training students at our music academy which has really proved to be of great assistance to them. Our music school has always stood in support of the statement that everybody is capable of learning music and reaching great heights with their efforts.
We target or focus on wholesome development of our students as an ideal music composer and performer. Access our state of the art facility and give your musical career a necessary boost to reach the height of success. We have a really important role in producing the current music legends and we are looking forward and putting our efforts for doing the same even in the future. We provide one of the best music educations in India which is in par with the international scenario.
We make it very clear that each of our candidates reaches their full potential and with our help it's been proved to be vital for the same. Have a unique music learning experience with our professional and very experienced music faculty and with an ideal learning ambiance. Kadambari's music department has always been eager to enroll the enthusiastic of music learners and additionally they are put through a very organized method of teaching in our best music classes.
And the past decade has been very fruitful for our music school and in this specific duration we have been successfully able to teach and guide numerous beginner musicians to be legend of our times at Kadambari one of the best music academies in Delhi. Join our specialized music courses for the bright future of yours ahead in the Indian music industry and some of our best music counselors in Delhi will guide you on this success journey.
Our courses are primarily focused on building you as a professional artist which is the primary goal of ours at this best music classes in Delhi at Kadambari. We also provide our students with workshops which are held fairly often and build their confidence with making them aware of essential set of skills required for the proper kind of learning experience. We at Kadambari introduce our students to diverse form of singing styles and we are the one of best music school to provide this kind of training in Delhi.
It has been one of our main focuses to introduce the learners at this best music institute in Delhi to outstanding opportunities in music, simultaneously making them an artist to be celebrated internationally. Come to one of the best guitar school in Delhi to take advantage of our greatest and best guitar teachers in Delhi. Enhance your musical skills with the assistance of best music teachers in Delhi at one of the best music academy in Delhi. We help and actually provide every music learner a catalytic experience which helps in ensuring that their efforts take those places.
Our musical training are world class and top of the order and yet very simple and smooth for our students to grab the lessons we offer. The guitar coaching is best and world class in Delhi at Kadambari. Also the live performances for our students are organized time to time to give them a wider exposure. Through live performance which are solo, duet as well as group performances our primary focus is giving our students as much experience as they can actually grab.
Have advantage of the best music therapy in Delhi. The music production department at our best music production classes in Delhi specializes in teaching the modern techniques and processes related to arranging a music track. Our music syllabus is designed to enhance your musical knowledge and make you confident enough of becoming an established artist. Take one of the best Guitar lessons in Delhi to have a professional or expert approach to your instrument playing.
Join Kadambari for one of our best music courses in Delhi and make your dream success into reality. Kadambari will be perfect for you if you want to join the best professional music classes.